Hi all Readme.me Fans! Today Latte Pun Yen Yen will take you to a beautiful resort in white which is calm and peaceful and they also have such a romantic restaurant.
It is Putahracsa Hua Hin. I am pretty sure that most of you have heard about this resort before.

We have arrived before the standard check-in time so we have decided to go for lunch first. Today's lunch is here at Je Kiew Seafood Restaurant in Khao Takiab. We pick the table at the forefront by the beach because today it is partly cloudy and not too hot. It is good that we can enjoy the nice sea breeze while having lunch.



Let's see today's lunch menu!
Stir-fried Soft-shelled Crab in Curry Powder.



Deep-Fried Snapper with Sweet Fish Sauce.


Sun Dried Calamari.



We are totally full now and it is a perfect time to go back to the resort and do the check in.


Putahracsa Hua Hin can be divided into 2 zones, the Ocean side and another one is on the opposite side of the road. Today, we are going to stay on the zone that is not by the beach.




There are 2 Lobbies in both zones, therefore; you can check in at the zone that you stay directly. However, it is not easy to guess that which zone that we have reserved.



The resort is fully designed in white color tone and it makes this place look very clean. Look at these white soft pillows! They look so comfortable.




Passion fruit tea is served as the Welcome drink. It tastes sour and smells very nice.



This is the building where our room is, we stay in the Silk Sand room this time. The Silk Sand room is right by the pool and it is a 2-storey building in U-shape surround the pool.



This corner is nice, the white sofa daybed with huge comfy pillows. Reading our favorite book with the pool view and light wind outside is fantastic.



The room's interior is designed in white color tone as well and this bed is super tempting for me to lie down.





I would say the room on the lower floor is not that private. People can look through when they walk passing by. Therefore, for those who prefer high level of privacy I recommend you to reserve the room on the upper floor.





The sink is in front of the bathroom.



All needed amenities are provided. Jasmine scented body lotion and hand soap are very fascinated.






The design of the bathroom is still remain in white color tone, both floor tiles and wall are in white. There is also an emergency phone located right in the bathroom which is great.







Bathrobe, in-room safe, umbrella, and laundry bag are well set in the closet.




Mini bar is also available. In case you want to get some ice, you can ask anytime as well.



I guess it is only 5 walking steps to get to the pool from our room.




Across the street, there is a resort's restaurant. And from the photo below, it is the Front Desk of the Ocean side zone where people who have reserved the room in this zone can do the check in.



We are actually hungry now. At first we plan to go for the Italian food at the restaurant nearby the resort but after rethink and since we stay here it must be so much better to eat here. Dinner by the beach must be nice and we are like we have made the right decision once we have stepped into the restaurant and seen this view.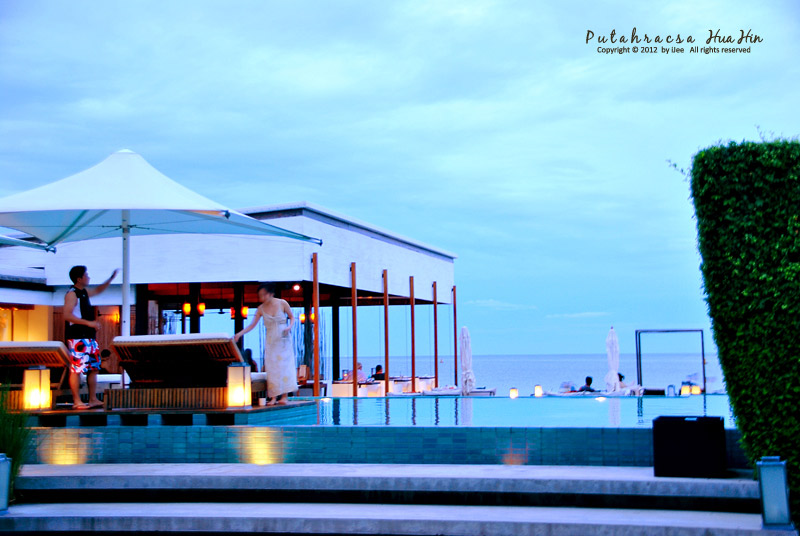 We choose to sit again at the forefront by the beach. However, I would like to take this opportunity to apologize all of you that all photos are pretty blur. I have to admit that because of my laziness so I did not bring the tripod with me. I promise that from now on I won't let this happen ever again.

We almost pick to sit here but we are afraid that we would fall asleep right after the dinner since it is totally similar to the bed with many comfy pillows.










Oceanside Beach Club.






I think the best choice of the drink for now would be some wine, sipping some wine while listening to the light wave sound must be fantastic.




And tonight's dinner starts with this Lamb Chops. I would like to tell you that the staff here is super kind, helpful, and caring. They really make sure that you get what you want, and what is the best for you.



Rock Lobster is the next menu. They have the promotion right now that you can have it cooked in your prefered way. We choose to have it stir-fried with garlic.



Side dish is the Mashed Potato. It taste perfectly good.



And another one is Baked Spinach with Cheese.



The dinner is ended and we are ready to end the night by going out.



There is a complementary shuttle to get to the city center.



Good morning Hua Hin! The new day has approached and it is time for breakfast.




The breakfast venue is at Sala Monsoon.





Look at the venue! This look totally comfortable. It seems like the resort want to make sure that the guests will all have a comfortable relaxing stay throughout the time in the resort. By the way, they really have a lot of pillows everywhere in the resort.





The bread and bakery are from its own Ob-Oon Bakery House where it is located right in front of the resort.







I want to try to eat this banana cake with passion fruit and mango jam, and it seems to go well together.






The Spa is also located by the restaurant.



And next, this is how Ob-Oon Bakery House looks like. It is very nice ambiance indeed.







These macaroons look so good so I guess I need to buy some of them.



The check-out time has come and I guess it is time to say goodbye to Putahracsa Hua Hin for now.



There is also a souvenir shop at the Front Desk where you are able to buy those Shampoo ceramic container, water glasses and so on which they are all similar to the one set in our guestroom.



In summary, I would say that I totally love Putahracsa Hua Hin.

I would rate the service quality 9.5 out of 10. 0.5 is deducted because I have some Wi-Fi connection problem during my stay and the staff come a bit late. Apart from that the service is exceptional, I am totally impressed.


The food is superb especially the dinner at the Ocean side restaurant, I would say it is one of the most romantic dinner I ever have so I would rate 10 out of 10.


The privacy of Silk Sand Room on the lower floor is limited because there are people walk passing by all the time so I would rate the privacy level 8 out of 10. And if you prefer a high level of privacy, you should reserve the room on the upper floor.


All in all, I would rate the overall at 9 out of 10. And if I ever have a chance to come back, I will definitely do.


Thank you for your kind support and I will see you again next time.